Sophia Santi, alias Natalia Cruze, is a rising star of the porn industry from Canada. This natural and exotic beauty is considered one of the hottest young porn actresses of present days. Sophia was born in Winnipeg, Canada on December 6, 1981.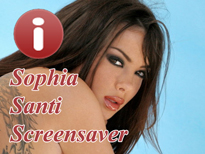 Though Sophia Santi is originally from Winnipeg, she spent her childhood in Vancouver. The blood of many ethnicities runs in her veins: Sophia's mother is German, Black Irish and Cherokee and her father is Romanian with Gypsy ancestors. They say, the more dissimilar the parents are, the cuter their children turn out to be. This is Sophia's case for sure! At the early age she was a super active hoyden and didn't even dream of modeling. During her high-school years Sophia Santi worked as a pizza chef and later she entered trade school to become esthetician. Moreover, she worked as a model since 14 and after school she decided to devote herself to nude modeling under the name Natalia Cruze. The result was the title of Penthouse Pet of the Month 2002 and Pet of the Year runner-up 2005. Sophia signed an exclusive contract with Digital Playground and was called by its president Samantha Lewis "the most gorgeous, tall, all natural brunette the adult industry has ever laid eyes on". Soon she had to change her name to Sophia Santi and registered it as a trademark – she explained that she didn't own the rights to NataliaCruze.com and didn't want another person "to capitalize on all the marketing" Digital Playground was doing for her. She caught the fancy of audience with her roles in Posh Kitten, Mrs. Behavin, and Way of the Dragon. Sophia is commonly known as a very nice and sociable person. She is interested in Ayurvedic and Tantric philosophies.
Sophia Santi has not only a balanced mind – everything in her is in total harmony. Slanting brown eyes emphasize her rich lips and small turned-up nose. Her feminine body (38B-25-39) is a real tidbit for any strict gourmet. It's embellished with a large tattoo of Japanese dragon, which Sophia started making in 1999 and gives touches to it from time to time. She believes, it looks much more beautiful to have a one big tattoo in comparison with several small ones.
Download beautiful Sophia Santi Screensaver for free.