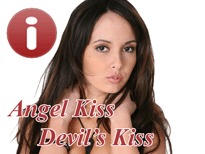 Introducing Angel Kiss, a young striptease goddess from Hungary.
This sexy brunette has become famous for her ardent stripping performances in famous Hungarian clubs. And now you have a chance to see her in action right on your desktop!
With her big boobs, long legs and curvy hips all mixed up in passionate rhythmic movements Angel Kiss always leaves an unforgettable impression.
She a devil! Install her free screensaver and/or stripsaver and enjoy the show!