Charlie Laine, also known as Tiffany Rocks and Cherry Laine, is an American pornstar actress, nude model and exotic dancer. Perfoming girl/girl and solo scenes only, this young porn starlet became very popular thanks to her irresistible charisma, vividness and feminity. Charlie Laine comes from Wisconsin. She was born in Marion on January 31, 1984.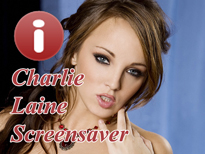 Charlie Laine always had a feeling, that she was predestined to be a model. She spent hours posing in front of the mirror, imaging that she was shooting for a famous magazine cover. When she moved to Florida at the age of sixteen, she knew exactly what she wanted. Enthusiastic Charlie worked as a model for sunglass and swimwear companies. She could hardly wait to come of age and become a part of adult industry. Charlie Laine made her debut in 2002, having starred in Cockless 21. The director Ed Powers was so impressed with her passionate performance, that he offered Charlie to participate in his other movies. The star of Charlie Laine rose and began to shine. She became Penthouse Pet of the Month (in 2006) and appeared in The Howard Stern Show, riding the sybian right in the studio, amazing her fans with her indomitable sexuality. Charlie Laine got quick promotion, but she insisted that she never acted against her conscience and she really enjoyed everything she did. Charlie says, her favorite occupation is sex and spanking and hair pulling are her fetishes.
Being very slender (32B-23-33), Charlie can overshadow any busty pretty girl with her unruly sexual energy. Her blue eyes shine with naughtiness and charm. Charlie is whole natural, fresh and skittish. She has a young tanned body with a ring in her navel.
Now you can install and enjoy Charlie Laine pornstar screensaver for free!