Chloe Jones, born Melinda Dee Taylor, is a renowned American nude model and pornstar. She appeared on the covers of mainstream men's magazines numerous times and gained the title of an Icon in Adult Media.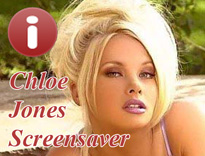 Chloe Jones was born in Silsbee, Texas on June 17, 1975. She told about herself, that she was an exhibitionist from her childhood. Chloe liked posing in front of the mirror in her mother's clothes and make-up, but she couldn't imagine then that she would be a superstar of adult business – she was just a small Californian girl. Only at the age of sixteen Chloe Jones realized that she developed to a very fetching woman and her fate was to be a model. After winning some Texas Beauty contests, Chloe decided to go to Los-Angeles and contact Talent Agency to get some work as a model. She succeeded in it and soon she was shooting for Vanity Fair and Playboy, feeling more and more freely in front of the camera. Chloe Jones became Penthouse Pet of the Month in April 1998 and began feature dancing a month later. According to her words, she got much pleasure among her adorers face to face. Still Chloe's ambitions went a lot further than merely nude modeling and she resolved to enter the hardcore porn industry, signing contracts with New Sensations and Vivid Entertainment in 2001. 'Virtual Sex With Chloe Jones' is her first adult movie in which she performed in a series of P.O.V. segments, giving the viewer the sense of vivid he participation in the scenes he watches. Chloe starred in only 18 adult films but that was enough for her to become incredibly popular. Her Love Machine, Air Erotica, and Sweetwater are recognized to be her best flicks. It was amiss that she stopped featuring in adult videos. By all accounts she was dismissed for her "difficult nature" and abuse of prescription drugs and alcohol, which undermined her health irremediably. Her unhealthy lifestyle finally resulted in liver failure. Shortly before her thirtieth birthday, on June 2, 2005, pornstar Chloe Jones departed in a Houston charity hospital, having left her 3 children: a girl Chloe and two twins Tristan and Austin.
Download free Chloe Jones Screensaver with her hot pics that were shot in her best years. Chloe Jones exudes a sultry sensuality. She is a brash and blowsy blonde babe with sassy strip-club allure. She's got long legs, a tight backside and a massive set of well-enhanced boobies.