Mika Tan, other aliases Mika Okinawa, Leiloni, as an Asian American fetish model and porn actress. At one time she was called "Susan Lucci of Porn", because she was nominated many times but got no awards. Run of bad luck was over in 2006 when Mika received Adam Film World award for Best Asian Starlet and AVN Best Oral Sex Scene Award.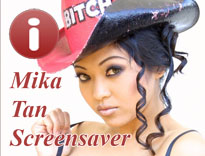 Mika Tan (birth name Saraswati Miyoko Kop Taetafa) was born in Honolulu, Hawaii on November 27, 1977 to a Taiwanese mother and a Japanese father. Mika worked as a child model and performed ballet and modern jazz. After she graduated from high school, Mika Tan attended San Diego State University. During her studies Mika earned on the side as a nude model and a stripper. She got a Bachelor's degree in Biochemistry and an Associate's degree in Psychology, but she didn't want to continue scientific effort. Mika Tan was discovered at an am/pm by porn director Jack Pearl and began acting in porn. When she married a fellow porn actor Alex Knight on February 17, 2004 she had to break with the adult business because Alex was too jealous seeing Mika working with other men. Still the marriage failed and the couple divorced. Mika Tan proceeded her work as a porn actress, doing mostly fetish-oriented videos. "Just because I do the fetish and understand it, doesn't mean it turns me on. I don't really like to beat people until they bleed, even though I've done it." By the present moment she performed in more than 900 hardcore and fetish scenes.
With her oriental hazel eyes, small nose and full lips Mika Tan looks too cute for an Asian fetish queen. When her piquant body with a pair of excellent legs (36D-26-36) is dressed in latex, she's ready to show what eastern love is. Simply download and install free Mika Tan Screensaver!