Terri Summers is a very popular Dutch pornstar actress, model and exotic dancer, who started her porn career in early 00's. Terri's known aliases are Terri Powers, Shelly and Judith and she is often misspelled as Terry Summers or Terri Summer. She was born in Amsterdam on January 16, 1976.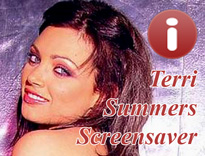 Terri Summers grew up in Netherlands in the family of Aruban father and mother of French and Hungarian descent. She began modeling at the age of four and quickly became acquainted with the world of show business. She appeared on TV in some commercials and shows, because she was a very nice little girl. Terri said, that as a teen she wasn't among the prettiest girls in her class for she had to wear brackets and glasses. Later she tried several jobs: as a butcher helper, a waitress and in an office, but she knew in what she could succeed best of all – dancing and modeling. Unexpectedly Terri Summers became in great demand as a nude model, when she was 23. She appeared in Hustler, Penthouse, Playboy, Club and many other magazines and was not only Pet of the Month in five countries, but also Pet of the Year in Holland. During Playboy photo session in USA Terri got an offer to act in an adult film, which she accepted and appeared in her first lesbian scene. Later Terri Summers appeared in boy/girl scenes for Private, Dorcel and Colmax. She continued her dancing career as well and started working at the Hustler Club in Paris and participating shows throughout Europe. Terri moved to Ibiza and cast her lot with a Spanish porn actor Andrea Moranty, with whom she founded a production company. Terri is no way retired, working mostly in Europe.
Terri Summers can boast of her 100% natural body (35C-25-36) with a scrumptious backside and svelte legs. She has a shiny white smile on her nice photogenic face. The color of Terri's hair and her hairstyle are mood-dependant, but her catlike green eyes are always full of coquetry and childish spontaneity.
Download Terri Summers pornstar screensaver for free!