They say, you don't know what the real porn movie is, if you've never heard about Jill Kelly (born Adrianna Moore). This actress, director and producer is a symbol of American porn industry. Jill has lightened up with her unforgettable play more than 400 adult films and was declared by the Club Magazine "Star of the Millennium". Jill Kelly, alias Jill Kellie, was born on February 1, 1971 in Pomona, California.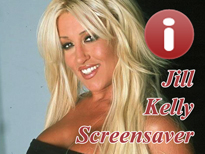 Jill started with feature dancing, working as a stripper at the Baby Dolls in Ontario. Though she was only fifteen then, she lied she was eighteen. Jill's parents were disappointed with her choice, but they didn't reject their daughter and remained close with her. Later Jill Kelly did live sex performances with Tiffany Miller at the O'Farrell Theatre in San Francisco. They went together to Las Vegas to see the AVN Awards show in 1993. After a casual encounter with Cal Jammer and their quick marriage Jill Kelly tried herself in porn – first with her husband as an onscreen partner, then with other men. Their marriage ended with a tragedy: after Jill's rash success Cal couldn't resign himself with his wife's wide renown and committed suicide. Jill Kelly overcame her grief and after a one-year hiatus she returned in the business. For her eager work she received many awards, but the most prestigious of them is with no doubt Best American Actress in an Adult Film at the Cannes Film Festival. Now Jill Kelly is concentrated more on producing and directing films of her own multi-dimensional company Jill Kelly Productions, which she launched in 1998. She has one more unlucky marriage and two miscarriages behind her. But Jill isn't in despond – when she retires she plans to live on a ranch with her future man and kids.
During more than 10 years Jill Kelly has captivating an audience with her womanly features and cryptic voice. She has a pair of alluring big breasts on her swarthy body (37D-24-36) and appealing look of a porn queen. Now you have a chance to download Jill Kelly Screensaver for free!