Puma Swede, alias Ms Swede, Puma Sweede and Swenz, is a Swedish pornstar and glamour model. Her real name is Johanna Jussinniemi, which she refused to use is a name for her adult career because of pronunciation difficulties.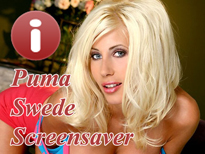 Puma Swede was born in Stockholm, Sweden on September 13, 1976. Her parents are Finns and she regards Finland as her native land. Before going to USA Puma Swede worked as a computer sales manager and model at the same time. She believed California would be a better place for promoting herself as a model. That's why she moved to Los Angeles in 2003. First Puma Swede did only girl/girl scenes. But eventually she plunged into the adult industry at full scale. So now you can watch more than 70 porn films with this hot Scandinavian tigress. Puma Swede looks awfully adorable and sexy in her each scene. She's got very large breasts (32F) and long legs. She's got a very delicate body. She's a natural blond with romantic blue eyes that spark you with their depth and crystal clear color. 'You won't resist me', Puma seem to whisper.
Our free screensaver with Puma Swede is waiting for you right here. Can you resist her?