Veronika Simon, aliases Veronica Kruz, Veronika Symon and Vicky S., is a fantastic beauty from Czech Republic. She was born in Prague on June 18, 1984.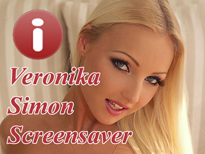 Veronika Simon's amazing modeling career began by pure accident. Once Veronika noticed she was followed by a photographer, who had taken photos of hers. He said Veronika was very photogenic and would become a famous model. And he was right. This blond heartbreaker has conquered a lot of men's hearts with her charm oozing through each part of her slender tanned body. Veronika's smooth mouthwatering breasts and neat curves are very alluring. It seems that her unique face features were chiseled by a divine hand.
Give yourself pleasure of watching Veronika Simon nude on your desktop for free!