Crissy Moran, alias Chrissy Morgan or simply Crissy M, is a former flourishing pornstar and nude model, who is famous for her saying "I'm shy but I have this thing where I don't feel uncomfortable being nude". She was born in Jacksonville, Florida, U.S. on December 22, 1975.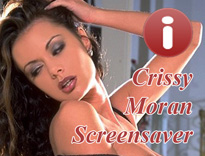 Crissy Moran tried a number of different jobs – from an office clerk to supervisor – before starting nude modeling. She was desperately looking for attention and affection and finally uploaded bikini photos of herself to the Internet. Soon she was launched into the adult business. She threw up her work and modeled full time. Pornographers found their gold vein in the Internet in the late 1990s. And Crissy Moran earned decently online. She also modeled for major pornographic magazines such as Hustler and performed in mainstream adult films doing high quality hardcore and lesbian action. She was also involved in fetish scenes with foot worship, stocking, pantyhose, bondage, role-play, latex, rubber, and more. Judging from her words, she has always liked to experiment and to go behind closed doors to see what she really desires. But despite this words and her profitable pornstar career, Crissy Moran got frustrated with her way of living and made up her mind to quit the pornographic industry. On October 6, 2006, Moran became a Christian and stated that she would never get back to the adult business. But in an interview given some time after that announcement she said that she still thought of herself as a pornstar.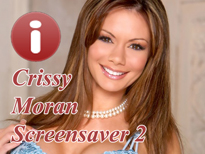 Crissy Moran's beauty is something that makes people write poems and songs (and some really did it). She seduces and lures you with her sleek and gleaming body of sexiest proportions (34D-23-35). Her enlarged and perfectly shaped breasts make you hold your breath. Her sensual plumped lips and enchanting snow-white teeth drive you crazy. Her stylish brown hair makes you dream of just one touch. Her innocent glistening brown eyes tempt you to enter the depths of something unknown and voluptuous.
Our two free screensavers with Crissy Moran give you a great opportunity to appreciate her extraordinary beauty and perfection.
Download Crissy Moran Screensaver 1
Download Crissy Moran Screensaver 2