Sophia Rossi, also known as Darlene Lust Maven, is an American model, dancer and pornographic actress. She was Hustler Honey in December 2005 and appeared in the October 2005 edition of Penthouse. Sophia Rossi was born in Las Vegas, Nevada on September 22, 1977.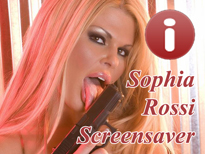 Sophia started modeling at age 15. She traveled to Japan and Hawaii and worked in Europe for some years. When Sophia Rossi came back to America, she settled in Scottsdale, Arizona with her husband. She gave birth to two daughters and didn't dream about being a pornstar. The marriage turned to be the unlucky one, because Sophia thought her husband "was insane and was molesting her children". She moved back to Las Vegas in 2002 and returned to modeling. Sophia Rossi featured in ads campaigns for Harley Davidson, Jack Daniels and Southern Comfort and worked as a stage dancer for Kid Rock. That was the time Sophia realized that her body is a true masterpiece, which has the power to inspire men with passion. By a fluke she was dating one of Jenna Jameson's bodyguards, who introduced Sophia to Jenna in 2006. The contract was signed and Sophia performed in her first adult movie called Sophia Syndrome. Jenna Jameson stated that "Sophia Rossi is going to be at the top of the porn biz very, very soon." But in May 2007 Sophia was released by ClubJenna for unknown reasons after only five films with Sophia released to the date.
Maternity didn't affect Sophia Rossi's inviting curves at all – she has slender 38DD-25-35 with sexy legs and perfectly rounded back. She has very handsome face features with a beautiful small birthmark on her left cheek and a long blond hair. You will definitely want to download free Sophia Rossi Screensaver.