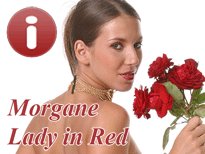 Attention! Want to see the most fantastic desktop girl performing a strip show just for you? We're introducing Morgane, a young and fresh temptress from Brno, Czech Republic.
Imagine that you have just dropped on a real strip bar on some cold winter night. Your eyes are arrested by a lady in red with a posy of scarlet roses. She's got perfect curves and looks at you with passion. You're starting to feel warmth from inside. She asks you "Want me to show you something special?" And you can almost feel her body heat.
She starts moving her seductive body in a bewitching dance. All of a sudden you realize that everything about her is perfect. You want to spend the whole night with beautiful Morgane. You take a glass of red wine and just enjoy her.
And you no longer have to imagine it, as now it can be real. You can have the whole of this romantic lady in red right on your desktop dancing and full-stripping just for you.
Download screensaver
Download stripsaver