Julia Bond, alias Julia Bombay, is a far-famed young starlet from Long Beach, California. She started performing in adult videos just a few years ago, but she has been already called Box Cover Queen – her beautiful features embellished dozens of DVD covers since 2005.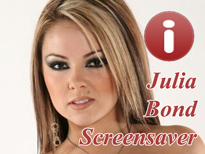 Julia Bond was born on February 26, 1987. She was only 18 years of age, when she began posing nude and played her first role in an adult movie. In 2005 Julia starred in 50 porn flicks. It was a shock for her mother, when Julia appeared in The Jerry Springer Show on July 26, 2006 and disclosed to her the real number of the porn films she acted in. In Julia Bond's early videos you could see her as a nice schoolgirl with her humble 34A, but now she's a true young sex bomb of lustful behavior. Julia is well known as a brilliant anal sex performer. Her best appearances are Big Wet Asses 11 and Celebusluts of Elegant Angel and Plump Round Rump of Digital Sin.
Julia Bond has numerous tattoos that characterize her splendid body: 'daddy's little girl' and angel wings on her back, the sun around her navel, playboy bunny above her right ankle and others. The most particular of them is on Julia's juicy enhanced breasts (now 36C). It's raccoon paw marks, similar to those that a famous rap singer Eve has. Julia Bond, this brown-eyed beauty, has many piercings as well: three of them are on her sweet youthful face, the others – in her nipples, navel and clit.
Download free Julia Bond Screensaver!