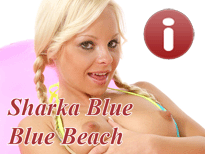 Sharka Blue is, beyond all doubt, a born exotic dancer. This blond milf from Czech Republic appears on your screen with an engaging smile and starts moving slowly, making you suck your lips in excited anticipation.
She is so hot and sexy that you won't hold even five minutes and finally get caught in her web. The question: how can such an innocent looking girl be so extremely atomic and horny?!
The answer: Sharka Blue is a professional stripper who has worked for a few years in Australia and New Zealand. She has developed her own style making her shows very clubby, explicit and unforgettable.
This little 'dynamite' has already won a whole crowd of fans amazed with her onscreen action. Want to know why? Download and install Sharka Blue stripsaver now!
Additionally, we offer you free Sharka Blue screensaver.