Gauge is a popular American pornstar actress and exotic dancer. She is known for her lolita image hiding a debauched woman inside. Exactly her innocent appearance helped Gauge to clime up to the top of porn career and to add zest to more than 150 adult films she starred in. Gauge was born in Hot Springs, Arkansas on July 24, 1980.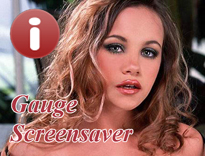 Upon high school graduation Gauge wanted to study at a law school, but she hadn't enough money to pay and started working as a stripper. As it often happens, soon Gauge entered the world of porn. She was 19, when she played her first role in More Dirty Debutantes #129 with Ed Powers and her ex-boyfriend Mojo. It was rumored, that Gauge was under age because of her extremely youthful look. Gauge disproved all hearsays and continued acting in adult videos, concurrently studying at the law school. April 2005 she had to spend a week in a hospital: Gauge almost died of alcohol poisoning after she abused strong drinks at a strip club in Arkansas. A year later she married a man named Jason. It was a love-match and Gauge is happy now. She lives in California and is fond of fishing and attending parties. Though Gauge doesn't have to save up money for her education now, she keeps on shooting in porn because she simply enjoys it.
In spite of her girlish appearance and short height – 4 ft 11 in – Gauge has a body of the real woman (34C-22-34). She has mouthwatering natural breasts and graceful curves. Gauge looks very fragile, but her sparkling green eyes and full lips express her hot temper and lust for sexual game, where she has no equal. Download free Gauge Screensaver!