Cherie Roberts, alias Kitana Jade, is an American exotic dancer and nude model. Cherie is pronounced as [share-ee] like the name of wine). She was born in Oakland, California, USA on 8 December 1978. Cherie Roberts has established herself as the queen of Eurasian models.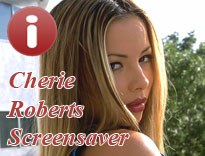 Sagittarius is the 9th astrological sign in the Zodiac and people born under this sign are generally characterized as free-spirited, intelligent, ambitious, versatile, energetic and independent. All these things can with full confidence be said about lovely Cherie Roberts who is a vivid example of a Sagittarius person. When she was seventeen, she left her house in San Jose and moved out on her own in the Silicon Valley. She started retail work there but soon realized that she couldn't make her living with it. So she came to San Francisco to start exotic dancing there. Cherie was very good at it and soon she was noted by several companies. Thus, at the age of nineteen young Cherie Roberts entered adult business as a model. Since then she modeled for such famous magazines as Playboy, Super Street, Import Tuner, Showgirls, Lowrider Euro and many others. For her extraordinary appearance and modeling abilities Cherie owns the title of Miss Hot Import Nights for the year 2001. She is also a recognized model of many popular modeling websites. And by the way, Cherie is a webmaster herself who conducts several popular websites, including CherieRoberts.com. Her career is flourishing but the Sagittarius of Cherie is not going to stop and rest on laurels. So you can expect to see much more of her in future. But you must know that fascinating Miss Roberts is not impressed by cars, "big cocks", money, and the depreciation of natural beauty.
Want to have the brilliant Cherie on you desktop? You are just in one click from it! Download free Cherie Roberts screensaver now!