Zoe Zeman is an endville pornstar and nude model of the late 90's. She is also referred to in the adult industry as Zoe Zelman or just Zoe. She was born in Del Rio, Texas on September 08, 1974. There's an opinion that everything in Texas is large and gorgeous. And Zoe Zeman, a big-eyed-and-breasted blonde babe, is a vivid example of it.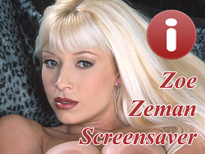 Little Zoe was said to be always timid and adorable child. She went to military schools until the 9th grade. At the age of sixteen she finished high school and followed that with an Associate's Degree in child psychology. While studying in junior college young Zoe Zeman began dancing in a strip club. When she learned that her boyfriend had forbidden her from doing it, she rebelliously went ahead and in 1994 she signed a contract with Cream Entertainment making a significant appearance in the adult business. Some time later Zoe Zeman moved to L.A. to check out the porn scene there. Soon she got into hardcore. Zoe Zeman signed with John T. Bone in 1998 and debuted in the pornographic movie 'Blow It Out Your Ass.' Her success was huge. And by now Zoe is appreciated as one of the biggest porn stars in the industry.
And it's no wonder. Zoe possesses a curvaceous ivory-skinned body with very big natural breasts (she's got double D) and seductive backside. She has bleach blonde hair which she wears long all around with short, straight bangs in front. And of course her big hazel eyes, so charming and meditative.
You are just in one click to having this fascinating Texas beauty on your desktop. Download Zoe Zeman Screensaver now!