Krystal Steal is an American porn actress and exotic dancer. She was the first pornstar that sign an exclusive contract with ClubJenna and was called Starlet of the Year 2004. Krystal Steal, also known as Krystal Steale and Krystal Steele, was born on November 29, 1982 in Orange County, California.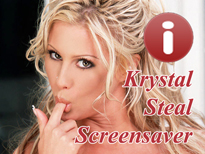 Krystal began her career at age 17, working as an exotic dancer and using a fake ID. A year later, when she came of age she performed in her first porn flick. Many critics suppose that if Krystal Steal started acting in porn so early, it's dead certain she had got a bad upbringing. Quite the contrary, Krystal had loving parents of Dutch and Irish descent, supporting her in every way. The truth is that she has always been a smart mischief and felt sexy. Since Krystal's debut in 2001 she starred in many porn movies and appeared numerous adult magazines. Her contract with ClubJenna expired in December 2005, but Krystal didn't want to work for the company no more, in spite of the offer to make a new contract. After a yearlong break she signed with Adult Talent Managers in September 2007. Krystal Steal is very glad about her job: "I'm always awaiting the next adventure! I see myself doing this for another 5 years strong because performing is what I love to do. If my body holds up I definitely have 10 to 15 more years of dancing and modeling." A perfect tight figure (34D-24-34) is what Krystal takes pride in indeed. She has smooth curves topped with large breasts and a naughty smile of a merry southern girl.
You will definitely want to have Krystal Steal Screensaver on your PC. Just download, install and enjoy it!