Briana Banks, also known as Mirage in the adult industry, is considered to be one of the sexiest and most professional pornstars and nude models. She was born under the name of Briana Bany in Munich, Germany on May 21, 1978. She moved to Britain with her family when she was four-year-old, and then to the suburb of Simi Valley in California, at the age of 7.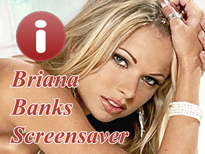 Before signing her first pornstar contract Briana Banks held a number of different jobs such as teen modeling and making pizza. She also was a secretary, file clerk and clerk at an arts and crafts store. Banks was first put into an adult movie (University Coeds 18) in 1999. Soon she turned out to be very experienced and professional adult performer willingly participating in heterosexual, lesbian and group hardcore scenes. For her contribution in the adult industry Briana was awarded with Penthouse Pet and Hot D'Or Cannes (in 2001), AVN Awards for best renting and selling titles of the year (in 2003). It is interesting to note that Cyber F/X and Sota Toys, a Los Angeles based company specializing in making action figures, made Briana's figure in 2002. Actually, Briana Banks was one of the first pornstars to have such figure made in her favor.
Briana Banks is a gorgeous blue-eyed blonde. Her proportions are incredible. While getting involved more and more in adult business she made up her mind to go through 2 breast enlargement operations. Thus, she got famous for having very big breasts on a thin body (34DD-27-30). Also Briana Banks is supposed to have the longest legs in the industry (36″). A ribbon tattoo over her tailbone and piercings in her tongue and navel contribute to the sexiest image of Briana Banks.
Want this libidinous beauty on your PC? Download free Briana Banks Screensaver.