Kira Eggers is a world-famous adult model from Denmark. She is recognized as one of the most beautiful and sexy women in the world.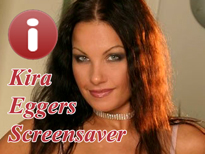 Kira Eggers was born in Copenhagen, Denmark on November 29, 1974. When she was fourteen, she hosted a radio show on DR (Danmarks Radio). Soon young Kira made up her mind to try herself in the adult industry. An she was a huge success because soon she appeared on the pages of men's magazines such as Hustler, Men's World, Club Confidential, Men Only, Swank, Mayfair, Penthouse, Leg World, Leg Show, Leg Action, Taboo, Cats, Cheri, High Society, The Sun, Sexual Fantasy, Velvet, and several others. She also worked as a stripper for some time. Sexy and sultry Kira also appeared on many Danish teleshows including the Danish version of Big Brother VIP. Notwithstanding her success and popularity in the pornographic business, Kira Eggers can hardly be called a pornographic actress or a pornstar in the strict sense, as she has never been involved in traditional hardcore performing solo and lesbian scenes exclusively. But it didn't prevent her from getting into Top 100 of sexiest women of FHM magazine in 2004. Also Kira Eggers has been a prolific writer for the Danish version of FHM, as well as for other magazines and web portals. In 2007 Kira has started her own website ClubKiraEggers.com, where you can find pictures and movies of her and her pornstar friends, as well as latest news posted by Kira herself.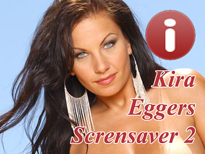 When you look at Kira Eggers you understand that she's a true lady temptress. She' breathtaking and glamorous, seductive and gorgeous, voluptuous and magnificent. And this list of complimentary words can be endless. Truly, Kira Eggers is a passionate woman with curvaceous body. According to Celebrity Sleuth magazine her measurements are 34D-26-34. Kira, a bootylicious beauty, has got perfectly smooth tanned skin. You can't but adore her delicious big breasts that are all-natural and her sexy round backside. She can boast of thick wavy brown hair. And her alluring green eyes are always full of coquetry and desire.
We have two free Kira Eggers Screensavers just for you!
Download Kira Eggers Screensavers 1
Download Kira Eggers Screensavers 2