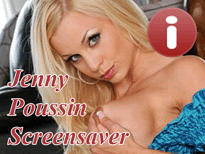 Jenny Poussin is a famous Canadian nude model and adult actress. You have probably seen this cutie featuring in such cool men's magazines as American Curves, Esquire, Playboy, Planet Muscle, Maxim, Picture, FHM, 2Wheel Tuner, Summum, etc. Well, now it's time to get her on your desktop!
Jenny Poussin was born on July 19th, 1982 in Montreal, Canada. When 23, she became seriously involved into nude modeling. Taking into account her perfectly shaped body, it was so good for her! Jenny can boast of her miraculous enhanced boobs, natural blonde hair, ocean-deep green eyes and the most charming smile.
You will definitely want to install Jenny Poussin Screensaver on your desktop for free!