Tawny Roberts is a stage name of an American pornographic actress. Having started with low-budget films Tawny turned into a seducing pornstar with more than 90 high-rated adult flicks she has behind her. She became attractive to the viewers with her wide candid smile and bright blue eyes. Tawny Roberts (real name Adrienne Arnold) was born on March 18, 1979 in Dallas, Texas.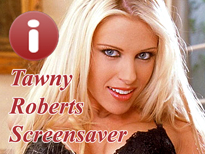 Raised in a bishop family Tawny has got an extremely moral upbringing. She had to stick hard and fast rules and restrain her expansive nature. Tawny Roberts could breathe freely after she began making her living and became independent from her parents. A chance meeting with pornstar Dayton, who worked for Vivid then, had changed all her life. Tawny was introduced to the world of porn and started performing for Metro Interactive in 2000. She wasn't satisfied with the quality of Metro movies and left in 2001. As fate willed, Tawny Roberts got acquainted with Jill Kelly, who was searching for a new talented girl, and signed a contract with JKP. She starred in many movies for Jill's studio, as well as for Odyssey, Digital Sin and VCA. Her boyfriend Rick Patrick was her parnter in most heterosexual scenes. Unfortunately Rick broke Tawny's heart when he left her for Jesse Jane whom he married. Tawny took a brief respite to regulate her life. She moved to New York where she became married and gave birth to her first child in December 2006. Nevertheless, Tawny Roberts plans to remain in the business.
We have a high-quality screensaver with pornstar Tawny Roberts. Download it, install and enjoy!