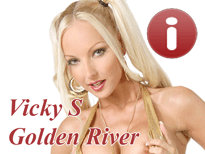 Want to watch a strip-show without going to a strip-bar? Then turn off the lights, make yourself comfortable in a chair and meet the hottest girl that could have ever done feature dancing for you.
Slavonic beauty Veronika Simon, or just Vicky S, is a professional stripper with tempting curves. She has a sweet Barbie-doll face with crystal blue eyes and tender plump lips. Veronika Simon resembles a rosebud and she seems to be fragrant like a flower. But don't worry, Veronika is more than just an image of a nice girl – she knows how to move her amenities to make you hold your breath till the end of her sexually explicit show.
What are you waiting for? Download Veronika Simon adult screensaver and stripsaver now!

Tags:
adult screensaver
,
adult stripsaver
,
animated stripsaver
,
dancing virtual girl
,
free animated stripsaver
,
free screensaver
,
free stripsaver
,
free Veronika Simon stripasaver
,
pornstar stripsaver
,
sexy deskmate
,
sexy desktop buddy
,
sexy desktop mate
,
sexy stripsaver
,
sexy virtual girl
,
stripsaver
,
Veronica Kruz
,
Veronika Simon Deskmate
,
Vicky S
,
virtuagirl